Pong Lake Sanctuary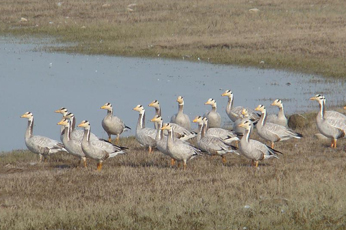 Located at a distance of 65 kms from Dharamshala, in Kangra district, the Pong Lake Sanctuary is covered by mountain ranges all over. Occupying a total area of 9,675 square kms, the sanctuary is at its best during October to February.
Around 220 species of birds belonging to 54 families take shelter here. Many of them migrate over long distances to come here. The animals that can be found at the sanctuary are Nilgai, Sambar, Barking Deer, Wild Boar, Clawless Otter and Leopard.
The Pong Lake Sanctuary also houses 27 varieties of fish which obtain food from the Pong Lake. A must-see site for bird lovers, the sanctuary has a dense pine forest. Thick and healthy vegetation also swamps in the placid lake of this sanctuary.
Just seven kms from the Kangra airport, the sanctuary is 86 kms away from the Pathankot railway station. Pong Lake Sanctuary is also well-connected by road to Kangra which is just 18 km away.

Hotels & Resorts
Featured Tours
Top Destinations