Dharamshala - The Little Lhasa in India OR home in exile of the Dalai Lama OR A place of peace and harmony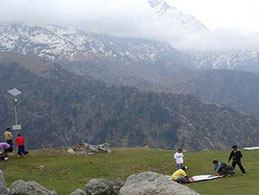 Dharamsala, situated on the slopes of Kangra Valley, is an exotic hill resort in Himachal Pradesh in India. The beautiful town Dharamsala in Himachal Pradesh set amidst the pine forests, is visited by thousands of followers of Dalai Lama.
Situated amidst the picturesque Kangra Valley, the Dharamsala hill resort is a spiritual place. The spiritual hill resort is divided into two parts – Dharamsala and McLeodganj. McLeodganj is the place where the spiritual head of the Buddhists, Dalai Lama abodes. The Little Lhasa-Dharamsala spreads the message of peace and harmony.
Other tourist attractions of Dharamsala are St. John'S Church In Wilderness, Chamunda Devi Temple, Maharana Pratap Sagar (Wild Life Sanctuary), Norbulinka Institute, Nurpur Fort, Dall Lake, etc.
Dharamsala lies on a Dhauladhar spur, the altitude rangng from War Memorial monument at 1300 meters to McLeodganj at 1770 meters. It is spread over an eye-catching 8 kilometers of rising slope. Lower Dharamsala has shopping complexes and the upper regions consisting of Forsytheganj and McLeodganj retain colonial township flavours.
McLeodganj gained further prestige with the arrival of His Holiness Dalai Lama in 1966. Vibrant with Tibetan culture and chant of Buddhist prayers it is lovingly called little Lhasa'.
Kangra Valley Festival in the month of May raises curtains on many a folkform of performing arts. Artistes invited from outside the state add variety to the event. From Dharamsala is visible the sprawl of throbbing Kangra valley which captures fullness of a light and shadow play that Dhauladhar ranges go through when the sun dips behind the snows. History too has played a light and shadow games with many places in the valley.
Attractions in Dharamshala
War Memorial : commemorates many brave soldiers from the region who laid their lives in various wars.
Kangra Art Museum : on display is an original throne of Raja Sansar Chand - a famous ruler of Katoch lineage. Specimens of world famed Kangra miniature paintings and many other artifacts dating back to the 5th century are on permanent display. The museum runs an art school where techniques of traditional painting are taught.
McLeodganj : (1770 m) rose to prominence when His Holiness the Dalai Lama, spiritual leader of the Tibetans made it his refuge after leaving Tibet. Nicknamed 'Little Lhasa1, traditional Tibetan medicine and handicraft here are great attractions.
Namgyal Monastery : in McLeodganj, have larger than life statues of Buddha, Avloketshwara and Padmasambhava. Several intricate religious thangka paintings adorn walls of the Buddhist tern pie.
Norbulinka Institute : (10 km), named after a summer residence of Dalai Lama at Lhasa, this institute is instrumental in preserving and propagating Tibetan art and culture.
It houses a beautiful Buddha temple, a Japanese inspired garden and a Losel Dolls Museum exhibiting regional, ritual, religious, official and theatrical costumes. Performance by the institutes artists during International Himalayan Festival (held in December) in all regalia provide glimpses of Tibetan grandeur.
Church of St. John in the wilderness (8 km) : A dressed stone church in whose courtyard lies the grave of Lord Elgin, a former British Viceroy who died at Dharamsala in 1863. This old church also has a huge bell.
Access to Dharamsala
Dharamsala is well connected by rail, road and air. Closest airport is Gaggal airport which is at 15 kms from Dharamshala. Other airports from major cities such as Jammu 200 kms, Amritsar 210 kms and Chandigarh 260 kms are also connected from the town.
The nearest broad gauge railhead is at Pathankot in Punjab at 95 kms.
Dharamsala is also well connected through road too. Chandigarh 239 kms, Delhi 514 kms, Nangal 145 kms, Jalandhar 166 kms, etc .
Accommodation facilities in Dharamshala
Well known for its calmness, picturesque beauty and tranquility Dharamshala is dotted with tea gardens, high pine trees and timber yielding trees that all make Dharamshala travel one of the best destinations for all types of travelers either they are business or leisure travelers.
To facilitate the needs of travelers, you will find adequate facilities of Hotels in Dharamshala. Dharamshala Hotels and Dharamshala Resorts are all equipped with all modern facilities at affordable price. Resorts in Dharamshala features in house restaurants that satisfy every taste bud whether it is Indian Mughal dishes or Chinese. The homely environment and atmosphere make it enjoyable.

Hotels & Resorts
Featured Tours
Top Destinations