Shimla - Queen of Hill Stations OR Queen of Hills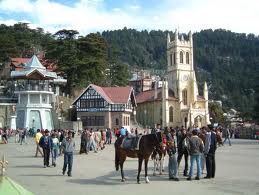 A capital city of Indian state of Himachal Pradesh cuddled up in the lower ridge of Himalayas, Shimla looks like a local village of Northern England. In 1864, the rare Indian town was declared as Indian summer capital in the British Raj. In fact, they termed the hill station as the 'Queen of Hills', by which it is often referred to.
The town with a salubrious climate was established by the Gurkhas in early 19th century. Thereafter, they built several forts here. However in the same century, the British soldiers got Shimla liberated. Shimla, having a difficult topology, is surrounded by the districts of Kinnaur in East, Sirmaur in West, Mandi and Kullu in North and the state of Uttarakhand in South.
Shimla can be reached easily from major cities of the country through Rail, Road and Air transport. From all the major cities of the country, daily flights are made to Shimla. The main airport is Jubbarhati, located 24 kms away from the town. It can also be reached by Chandigarh airport, which is 147 kms far from the town. Shimla, situated on National Highway 22, is can be easily reached also by roads from all big towns and cities of the country, by using regular buses and taxis.
Shimla hill station holds a very special place among the best destinations of Himachal. Every year, a large number of tourists visit to see the beauty of Pine and Deodar forests, grand mountains, serene valleys, varied adventure sports and gorgeous natural landscapes. Moreover, there are several other places of immense tourist interest.
Shimla's main shopping street The Mall has many restaurants, clubs, banks, bars, Post Offices and tourist offices. The famous Gaiety Theatre is also located here. Being the main meeting place in Shimla, The Mall bears The Ridge and Scandal points which are the two main meeting points here.
The second oldest church in Northern India Christ Church is located on the Ridge. Bearing a magnificent appearance, the church in its inside has stained glass windows depicting faith, hope, charity, fortitude, patience and humility.
Shilon Bagh, located just 24 kms away from Shimla Mall Road, is the place of excellent resorts. Kufri, situated at (2,633 meters in height) 16 km far from Shimla, has a space on the sports and tourist map of India.
Another attraction is the Jakhu Hill, just 2 km far from Shimla. Situated at a height of 8000 ft, Jakhu Hill holds the highest peak in the hill station, providing a pleasing sight of Shimla and also the snow-rapped Himalayas.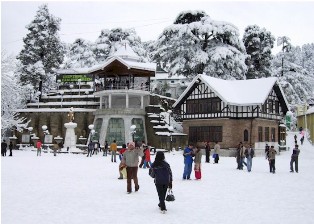 A worth see spot is Shimla State Museum. Opened in 1974, it aims to protect hill-out and the cultural riches of Himachal.
You can also like to visit Indian Institute of Advanced Study. Located in the Viceregal Lodge, it was established in 1884-88.
The beautiful township of Summer Hill is located just 5 km away from the Ridge, at a height of 6,500 ft on the Shimla-Kalka railway line. It is known for Mahatma Gandhi's destination when he visited Shimla. Here is located the Himachal Pradesh University.
Annandale, situated just 2–4 km from the Ridge at a height of 6,117 ft, has been developed as the playground of Shimla. You will love to enjoy cricket, picnics and polo here.
Moreover, Junga, situated near Tehsi, 26 km from Shimla, is a former royal retreat of the princely state of Junga (Keonthal Estate).
Built over many hills and connecting ridges, Shimla has several ancient Churches and temples. The hill city has various worth visit temples including Tara Devi, Sankat Mochan and Anand Vilas.

Hotels & Resorts
Featured Tours
Top Destinations