Shopping in Himachal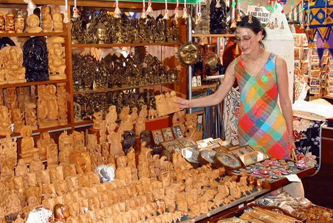 A tour to Himachal is incomplete without doing shopping in Himachal Pradesh. Himachal Pradesh produces some of the wonderful handicrafts, which reflect the sound skills of their craftsmen, their traditions, culture and beliefs. One can find a large variety of crafts and handiwork items in local markets all over the Himachal like shawls, wood crafts, paintings, embroidery, textiles, rugs and carpets, etc. Often it takes endless efforts of artisans for months to complete the above articles and bring them into market for sale. One can find the traces of the inspirations from mythology and folklore in the crafts of Himachal Pradesh.
Shopping in Himachal Pradesh majorly comprises of the following items
Wood Crafts : Wood crafts of Himachal Pradesh are perhaps the oldest types of handicrafts of Himachal. The old world charm of wooden furniture is still alive in Himachal Pradesh through its wooden works like cradles, low settees, boxes, ladles, bedsets etc. The most popular wood crafts of Himachal Pradesh are fruit baskets, trays, serving bowls, photo frames, candle stands and carved idols, which a tourist can treasure as souvenirs of Himachal Pradesh.
Shawls : Paschmina Shawl, the most famous shawl of the world is a product of Himachal Pradesh. Shawls of Himachal Pradesh, especially Kullu shawls are very famous for the quality and embroidery. Artists of hill regions of Himachal are perfectionists in weaving shawls. Shawls woven as per the old traditions comprise of shawls made of fleece (hair of goat). Hardly any lady misses out to buy shawl while shopping in Himachal Pradesh.
Rugs and Carpets : Rugs and carpets of Himachal Pradesh are widely famous for their quality and designs. Earlier the rugs and carpets in Himachal Pradesh were made from hair of goats but now most the rugs and carpets in Himachal are made of wool. The rugs and carpets of Himachal Pradesh are admired for their fascinating motifs which include Gurda perched on a flowering tree, blossoming lotus flowers, flutes etc. The attractive rugs and carpets at reasonable prices becomes an addition in shopping list at Himachal Pradesh.
Paintings : The eye-capturing romantic and colorful paintings can't be missed out while shopping in Himachal. Most of the paintings depict the court and the romantic scenes, and can create a wonderful aesthetic contrast in today's modern homes. Thangkas , brightly tinged cloth paintings, depict different poses of Lord Buddha and various Buddhist Fairs and Festivals. For foreigners these paintings form an important part of shopping in Himachal Pradesh.
Embroidery items : Artisans of Himachal Pradesh produce a variety of beautiful embroidery items which include rumals (handkerchiefs), coverlets, caps, cholis, hand fans, kurtas etc. Shopping in Himachal Pradesh is incomplete without purchasing any embroidery item.

Hotels & Resorts
Featured Tours
Top Destinations