Dalhousie - A gateway to the primeval Chamba Hill State OR A place of Scenic Beauty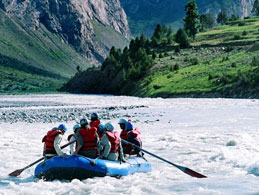 Established in 1854 by the British rulers in India as a summer retreat for their troops and bureaucrats, the town was named Dalhousie after the then Viceroy of India Lord Dalhousie.
Spread out in 14 sq. Kms, Dalhousie is surrounded by five hills namely Kathlog, Portreyn, Bakrota, Moti Tibba (previously recognized as Tehra) and Balun.
Dalhousie is a beautiful hill station in India located in the Chamba district of Himachal Pradesh. Built on and around five hills, the summer retreat at the time of Bristish Empire, the picturesque hill staion Dalhousie was named after Lord Dalhousie who was the British Viceroy in India at that time. Located at the Dhauladar mountain range of Himalayas, Dalhousie is situated between 6000 and 9000 feet above sea level amidst the snow-capped peaks.
Dalhousie is a gateway to the ancient Chamba Hill State. The hill region preserves the ancient Hindu culture and art in its temples and handicrafts.
There are many tourist attractions in and around Dalhousie-Panchpula, a beautiful picnic; Satdhara Springs, believed to contain medicinal properties; Kynance, a private residential building of Dharamvirs; Subash Baoli, where Netaji Subhash Chandra Bose stayed during his 7months sojourn in Dalhousie in 1937; ST. Francis Church; ST. John's Church; Laxmi Narayan Temple; Radha Swami Satsang Bhawan & Hospital; Shivkul; Dakshina Murti; Norwood Paramdham and Kalatop.
Shawls, chappals, cane baskets and woolen dolls etc can be shopped in Dalhousie. This region has several houses that are samples of colonial architecture especially, its ancient churches.Located in the Dhauladhar ranges of the Himalayas, Dalhousie offers exciting views of the snow covered mountains of the Himalaya and the nearby rice fields.
A famous tourist attraction in Dalhousie is Subhash Baoli named after Subhash Chandra Bose, a popular freedom fighter. This place is surrounded by majestic trees. Kalatop, a wildlife sanctuary popular for its rare inhabitants like Ghoral and Himalayan Black Bears is located 10 kms from Dalhousie.
Access to Dalhousie
Dalhousie is easily accessible by rail, road and air network. Shimla, Delhi and Chandigarh are the nearest airports to reach Dalhousie. From here, buses and taxis are available to visit the town.
Dalhousie is also well connected by road too. Dharamsala, Pathankot, Chandigarh and Shimla offer regular buses and taxis to reach Dalhousie.
The nearest rail head is at Pathankot in Punjab and bus/ taxi services are available to reach Dalhousie. Some important trains are also available from Delhi, Jodhpur and Moradabad to reach the town.
Gorgeous valleys, dense forests, picturesque beauty and soul refreshing climate, etc are the key qualities that make Dalhousie tourism as the primary choice among tourist from near and far away places.
To facilitate the needs of travelers, Dalhousie has numerous hotels. Dalhousie hotels are categorized into standard, deluxe and budgeted hotels. All types of hotels in Dalhousie are equipped with modern amenities. Time to time these hotels provides discounted Dalhousie packages.
So what are you waiting for? This time make your vacations memorable with Dalhousie Travel.

Hotels & Resorts
Featured Tours
Top Destinations