Art & Culture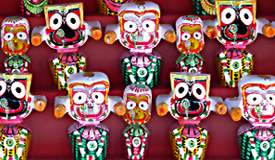 Himachal Pradesh is known as the Lands of God. Art & Culture in Himachal is quite vivid and diversified. Various art and craft forms of the state are very famous around the world. The wide list of Himachal handicrafts includes Thapada that is a widely-available large embroidered shawl. Another specialty of Himachali artisans is Kohana that is a kind of wall hanging.
Other famous items tourists love to buy in Himachal are pillow covers, blouses and caps decorated with lovely embroidery as a memorabilia of their tour. Popular embroidered caps can be found in Kullu, Sirmair, Kinnaur and Lahaul. You can also go for Kullu shawls that are loved by visitors and locals both.
Lahaul is a place that is known for its rugs that illustrates the traditional Pahadi designs. Tourists also take much interest in the amazing patchwork quilts, rag dolls and elephants made in the region. These items contribute a significant part in the trousseau of a bride.
The cold climate of Himachal helps it produce a wide variety of woolen products using the Byangi wool. Other popular traditional craft in the region is dyeing and printing of fabrics, mainly done by Farahada and the Chhiba tribes of Himachal.

Hotels & Resorts
Featured Tours
Top Destinations