Jakhu Temple Shimla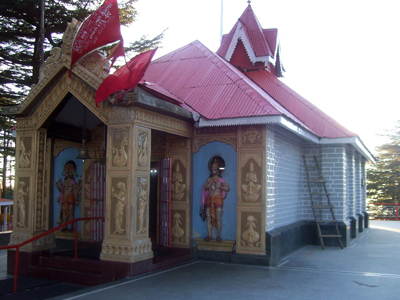 Deriving its name from Hindi word Yakhsa - mythological characters in Hindu mythology who are a link between human and gods; Jakhu / Jakhoo is a famous temple dedicated to the monkey god- Lord Hanuman.
Situated at the highest peak in the hill capital of Himachal, at about 8500 feet in the east of historical ridge ground in Shimla, the temple is said to be existing from the times of Ramayana.
This temple of Lord Hanuman, the most faithful aide to Lord Rama is located in the thick forests of Jakhu hills. The devotees need to cover a steep hill trek of around 2 kms to reach the temple. The temple can also be visited on the back of ponies that are available on hire at the base of the hill.
History of Jakhu / Jakhoo Temple - Himachal Pradesh
The temple has a great mythological tale attached to it dating back to the fierce battle between Lord Rama and Ravana at Lanka. During the course of the battle, Lakshmana, the younger brother of Rama got injured by an arrow of Meghanath, Ravana's son and lost his senses. He could not be cured despite numerous efforts. Then a herb practitioner told Lord Rama that Lakshmana could only be saved by Sanjeevani herb to be brought from Himalayas. Hanuman was entrusted with this life saving task of bringing the herb.
While going towards Himalaya to get the herb, He saw sage Yaaku sitting on Jakhu mountain in penance. Lord Hanuman landed on the mountain to gather more information about the herb. The mount could not bear the weight of the Lord and sunk to the earth, remaining half of its original size. Having cleared his doubts about the herb, the Lord restarted his journey and promised Yaaku to meet him while returning.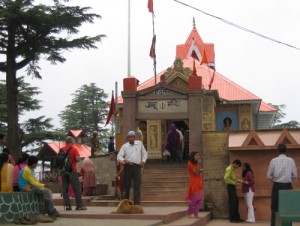 But on his way back, Lord Hanuman had to fight with a dangerous demon, Kaalnemi. This took a lot of time and He had to take the shortest route to reach Lanka whereas the sage kept waiting for Hhm. Hanuman did not want to make the sage unhappy. So he appeared before the sage and told him the reason for not keeping his promise. As Hanuman disappeared, having pacified Yaaku, an idol of Him appeared on the hill by itself. Yaaku built a small temple to commemorate the Lord's visit on the hill and kept that idol there. The idol can be seen in the temple till date along with the foot prints of the monkey god.
Like many other hanuman temples in India, endless number of monkeys can be seen at this temple also. These monkeys are generally very peaceful but if provoked can be very dangerous too. Pilgrims offer peanuts and bananas to these monkeys which are readily accepted by them.

Hotels & Resorts
Featured Tours
Top Destinations