Baijnath Temple Palampur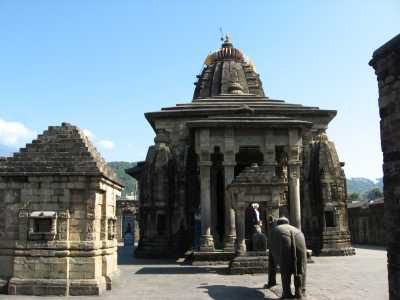 Dedicated to Lord Shiva, the Baijnath Temple at Kangra is located 16 kms from Palampur in the Beas valley. Worshipped here as Vaidyanath or the Lord of Physician, Lord Shiva is believed to be present here since 1204 AD. The history of the temple dates back to the ancient times of King Ravana. It is believed that Ravana had worshipped Lord Shiva in this temple only and had sacrificed his head ten times at a place marked out in the temple. Due to this, people in the surrounding areas do not celebrate Dussehra. They feel this can offend Lord Shiva to celebrate the death of His devotee.
History of Baijnath Temple - Himachal Pradesh
According to the inscriptions on the stone slabs of the temple, its foundation was laid down by two local merchants in the 9th century. The date of inscription though given in two eras namely Saptarshi and Saka, the latter corresponding to 1204 AD, is considered more authentic. King Sansar Chand renovated the temple in the 19th century.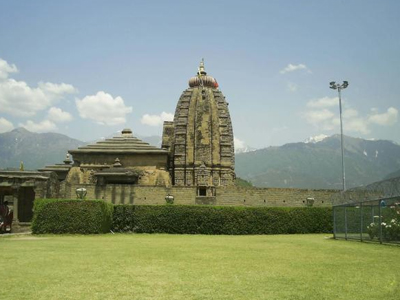 Constructed in the Shikhara style, the temple is located in a well maintained complex of gardens, lawns and pathways in a single walled courtyard. There are exquisitely carved floral patterns and images of deities at the outer walls of the temple. The sanctum of the temple is 8 feet square inside and 18 feet outside, crowned by a conical spire. The sanctum contains a linga called Vaidyanath. The main structure of the temple occupies a major portion inside the courtyard. Apart from having two noteworthy shrines, the temple also has two very attractive statues. These nicely carved statues present peculiar features of Lord Shiva's vehicle- Nandi Bull and a small human figure holding Nandi's tail.
The unique architecture of the temple based on Oriya pattern distinguishes the temple from others. With a pyramid shaped roof having a two and a half meters square from inside and 5 and a half meters from outside, the temple is marked for a rare expertise of the Kangra artesian.

Hotels & Resorts
Featured Tours
Top Destinations