Chamba - its arts and crafts OR it's magnificent scenery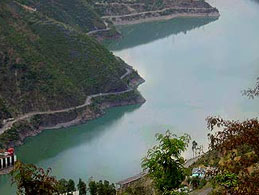 Located at a height of 996 meters on the South bank of river Ravi. Chamba, an ancient Pahari capital was founded in 920 A.D. by King Sahil Verma of Chamba. He named this site after his much loved daughter Champawati. Later on the king got a temple made in honour of his daughter Champawati. She is worshipped as a Goddess in Chamba at the Champawati Temple.Chamba in Himachal is known today as a land of antiquity, art, culture, and enchanting beauty.
This region is covered by three well distinct snowy ranges the Dhauladhar range, the Pir Panjal range and the Zanskar range. Chamba is also famous for Minjar fair, held each year in the month of July. Bhuri Singh Museum is the main attraction at Chamba Valley. This museum opened on is 14 September 1908. Named after King Bhuri Singh, who ruled over Chamba from 1904 to 1919. This museum is known for its paintings. Another very famous temple at Chamba is the Chaurashi Temple dedicated to Ganesh, Lakshmi Devi, Manimahesh and Nar Singh gods in Bharmour.
Bharmour, Chamba Hill Station
Chamba is a picturesque town in the scenic valley of Himachal Pradesh, named after Champawati the daughter of Raja Varman. Located just 56kms from the famous hill station Dalhousie in Himachal Pradesh, is a perfect destination to spend holidays in India in the lap of Himalayas. The monuments and the ancient temples of Bharmour reflect the glorious past of the town. Bharmour is oten reffered as 'Shiv Bhumi'
The life of Bharmour revolves around the Chaurasi Temple Complex. The Temple Chaurasi is so called as it comprises of 84(Chaurasi) Shivlings. The Temples of this Complex in Bharmour in Chamba, Himachal are dedicated to Goddess Lakshmi, Lord Ganesh, Manimahesh and Narsimha. Mani Mahesh temple is the tallest temple in the whole complex. Built in the Shikhara styke of Architecture, the temple has a Shivalingam on a raised platform. Ardha Ganda located in the corner of temple complex is a small holy water resource.
The Hill Temple- Bharmani Devi is only 4kms above the Chaurasi Temples. A trek through the green woods to the Bharmani Devi Temple in Bharmour in Himachal is rejuvenating.
Access to Chamba
Chamba is well connected by rail, road and air. Road connects Chamba and major cities of the state. Delhi is 580 kms and Khajjiar is 24 kms from Chamba and reachable by buses and taxis. The nearest railway station is at Pathankot in Punjab which is at 116 kms from Chamba. From here, taxis and buses can be availed to reach the town. This hill station of Himachal Pradesh is also well connected by air. The nearest airport is Gaggal airport in Kangra which is at a distance of 170 kms. Buses and taxis are available to reach Chamba from the airport.
Accommodation facilities at Chamba: To facilitate the needs of tourists, Himachal tourism provides best hospitality services. From Budgeted to Luxurious hotels/resorts,Chail hotels provides all modern facilities and offers lucrative Himachal packages that will make your vacations truly enjoyable.

Hotels & Resorts
Featured Tours
Top Destinations