Lahaul & Spiti Tour Packages
10 Nights / 11 Days
Shimla | Sangla | Kaza | Kalpa | Manali
DAY 1:    SHIMLA – SARAHAN (7 HOURS/165 KM) 2165 mtrs 
After B/F, drive from Shimla to Sarahan via Kufri, Theog, Fagu, Narkanda, Rampur. Take Lunch en-route in Rampur. Arrive Sarahan & check-in to your Hotel. Sarahan commands a view of Srikhan Mahadev Peak & is famous for 800 years old Bhimkali Temple, one of the best example of Hill Architecture. Enjoy panoramic view of Shrikhand Peaks in evening. After getting fresh visit to Bhimkali Temple – One of the 51 Shakti Peeth. Attain evening Aarti Ceremony. Dinner & O/N stay.   
  
DAY 2:    SARAHAN – SANGLA(5 HOURS/ 90 KM.) 2744 mtrs 
Participate in Morning Aarti at Bhimkali Temple. After B/F, checkout from the Hotel & departs for Sangla – via Karcham. Your journey from here will take you to another spectacular destination in the middle Himalayas which is also known as Baspa valley – the prettiest valley in Himachal. Arrive Sangla & Check-in to your Hotel. Post Lunch rest in the hotel. Dinner & O/N stay.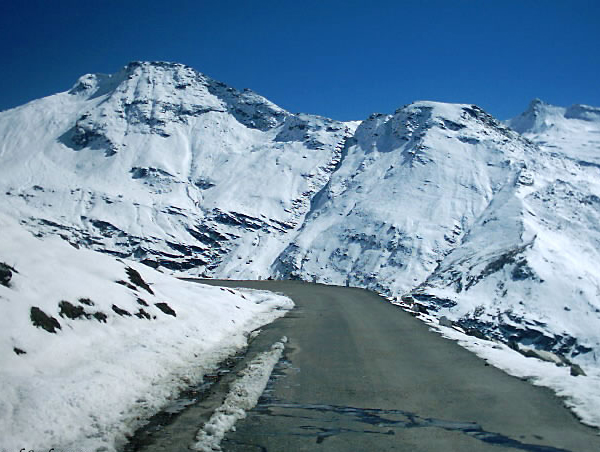 DAY 3:    SANGLA – CHITKUL– SANGLA (3 HOURS./40 KM) Hrs 
 After B/F, explore the vicinity around including an ancient Kamru Fort & Temple dedicated to the Goddess Kamakhya Devi which was brought from Assam & Nages God. Post Lunch, excursion to Chitkul – a last Village on Old Indo – Tibetan Trade Route. Walk through green orchards & brilliant stream. Return back to Sangla for Dinner & O/N stay.   
  
DAY 4:    SANGLA – KALPA (4 HOURS/49 KM.) 2670  Mtrs   
After B/F, check-out from the Hotel & drive to Kalpa – District Headquarter of Kinnar & once a favorite haunt of Lord Dalhousie. Arrive Kalpa & Check-in to your Hotel. Kalpa was known as Chini back in the days when it was the Regional Capital. Kalpa has changed little in the last 500 years. It is said that as & when Lord Dalhousie wanted to take a break from his hectic schedule in Shimla, he would come here on his Horseback. Each & every corner of Kalpa facing Jorkanden & the Kinner Kailash Peaks, considered as one of the mythical homes of Lord Shiva & by its side is a 79 foot rock formation that resembles a Shivlinga that changes the colour as the day passes & is visible to the naked eye on a clear day. Post Lunch rest in Hotel & in evening visit to Buddhist Gompa – Hu Bu Lan Kar. Dinner & O/N stay.   
  
DAY 5:    KALPA 
Early morning enjoy the Sunrise over Kinner Kailash Peaks.  After break fast  Kalpa is famous for its Apples & Chilgoza Plantations [a kind of Dry Fruits], which are found only in Iran & Turkey besides here. The tree belongs to the Pine Family & the fruit is in about an inch long soft cover. Visit to local School & Narayan Nagini Temple Complex, which has Shrines of Hindu, Buddhist & local Deities. Post lunch excursion trip to Roghi Village to explore the 'Pahari' Life. Interact with the locals. Return back to Kalpa. Dinner & O/N stay.   
  
DAY 6:    KALPA – NAKO – TABO (6 HOURS/145 KM.) 3500 Mtrs 
After B/F, Check-out from Kalpa Hotel & drive to Tabo. En-route visit Nako Lake – Kinnaur's most picturesque hamlets. Nako is slated to be declared a heritage village built around a small lake & has an important Buddhist Gompa & a small Temple. A footprint like impression on a rock is ascribed to the saint Guru Padmasambhava. 
  
Welcome to Spiti Valley – with few signs of Vegetations. Yet this land renders visitors speechless with it's harsh raw beauty of the landscape. Rudyard Kipling describes Spiti in "Kim" in these words: "At last they entered a world within a world – a valley of leagues where the high hills were fashioned of the mere rubble & refuse from off the knees of the mountains…surely the Gods live here. 
  
Arrive Tabo & Check-in to your Hotel. The ancient village Tabo situated on the left bank of river Spiti. It is the seat one of the most famous Buddhist Monasteries regarded next to the Tholong Gompa in Tibet. It is also know at 'Ajanta of Himalayas'. Dinne & O/N stay.  
  
DAY 7:    TABO – KAZA (3 HOURS/47 KM) 3870 Mtrs 
After early B/F, participate in the morning prayers. Tabo Monastery constructed in 996 AD; – not just in Spiti but in the whole of the Tibetan Buddhist world is called Chogs – Khor ['Doctrinal Circle' or 'Doctrinal Enclave']. It is a complex that holds 9 Temples, 23 Chortens, a Monk's Chamber & an extension that houses the Nun's Chamber. On the sheer cliff-face above the enclave are a series of Caves, used as dwellings by the Monks & includes an Assembly Hall. The monastery contains large number of Scriptures & Pieces of Art, Wall Painting & Stucco. There is also a modern Gompa & Painting School founded by the Dalai Lama. Check-out from Tabo after Lunch. 
  
En-route visits Dhankar Gompa, the traditional Capital of Spiti, sits pretty on a hilltop. The hill-top Fort that overlooks the Spiti Valley also used to serve a Jail in old days. Today, more than 160 Lamas reside here. A Statue of Dhyan Buddha where four complete figures of Buddha sit back to back is the main attraction of this more than 7TH Century old Monastery. 
  
Continue drive to Kaza – the Capital of Spiti Valley. Arrive Kaza & check-in to your Hotel. Dinner & O/N stay.   
  
DAY 8:    KAZA   
After early B/F by 07 AM; excursion trip to Ki Monastery. Situated at the foot of steep ridges & on the left bank of river Spiti is the Ki Monastery which is the Biggest Gelupa Sect Monastery in Spiti. It's hilltop position points to a post 13TH Century construction. The three stories structure consists largely of storage rooms at the bottom level while the middle floor houses the Dukhang – the Assembly Hall & the uppermost floor has another Temple & Head Lama's Quarters on the one side of an Open Terrace. The greatest wealth of Ki Gompa lies in its collection of 'Thangkas' salvaged with difficulty from the devastating raids of the Dogars & the Sikhs in the 19TH Century. Hundreds of Lamas receive their Religious Training in this Monastery & is famous for its ancient Murals & Books. From here a scenic drive takes you into the Pasture Country of Kibber. From Kibber, the Pastures are spread over hundreds of square kilometers. Return back to Kaza for Dinner & O/N stay.   
  
DAY 9: KAZA – KUMZUM LA PASS – KEYLONG (8 HOURS/188 KM) 3340 Mtrs 
After early B/F by 06:30 Hrs; check-out from the Hotel & drive to Keylong via Kunzumla Pass which is 4590 M. highest pass on Spiti Lahaul Road. Rudyard Kipling said of the region "Surely the God live here this no place for Men". Most of the Government Offices are located at Keylong. This is also the hub-centre of all commercial activity with a regular bazaar. The landscape is barren all around while the valley floor is lush green with fields of Barley, Potato & Hops fringed with trees of Willow & Poplar. Since the altitude is low, Apples, Walnuts, Apricots, etc are grown in this area. Because of its panoramic setting Lieut. Col; the Honble C. G. Bruce, M. V.O. likened keylong to a barbaric jewel – a roughly cut emerald in a bronze & silver setting. "It is an Oasis of green fields & willow planted water courses surrounded by brown hills & snowy heights". En-route stop at tiny hamlet of Chattru for refreshment. Arrive Keylong & check-in to your Hotel. Dinner & O/N stay.  
  
DAY 10:  KEYLONG – MANALI (4 HOURS/115 KM ) 2050 Mtrs 
After early B/F, visit to Kardang [5 Km.], Shasur [3 Km.], Guru Ghantal [8 Km.]. After early Lunch Check-out from the Hotel & departs for Manali [6 Hrs.]. Arrive Manali & Check-in to your Hotel. After late Lunch, full day Rest. Dinner & O/N stay.   
  
DAY 11:  MANALI – CHANDIGARH ( 8 HOURS/315 KM)321 mtrs 
After B/F, Checkout from the Hotel & departs for Chandigarh. Lunch en-route. Arrive Chandigarh &  by evening Shatabdi Move to Delhi

Hotels & Resorts
Featured Tours
Top Destinations